I am changing a few things in my kitchen dinette. We have a computer armoire in the corner of my photo wall. My ceilings are quite high, so I like to add some height in this corner and I am growing a little bored of the way it is now. (could it be the fact that there is still a tree up there from Christmas that I carried out through winter? nah. ;) So, I decided to get crafty and make an tall twig thingy. Into the craft abyss I ventured…
I needed something with some weight for my base. I found this super lovely Halloween votive holder and filled it with rocks from my yard. I then covered it in, da da ta da… MOSS! Next, I took some birch twigs I had and placed them evenly around the moss base with hot glue.
Once in place I tried some ribbon around the base. This adds more support for the twigs and some

pretty

.
I then stuck some more moss inside on top of the rocks and even bits of moss up on a few of the twigs. This was easy, fast and FREE. Can't wait to show you where it ends up. :)
I made another one with curly willow that I will share with ya later. I hope y'all have a fantabulous weekend!
Check out these links…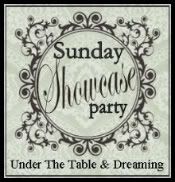 http://decormamma.blogspot.com/2010/05/frugalicious-friday-giveawaythirty-one.html