Nothing says

Thanksgiving

like cornucopias.
Here are a few tips and steps to help you create a

beautiful centerpiece

to represent all that we are

blessed

with.
First gather your supplies.
You need a goats horn. Ok if you don't have a goats horn a woven basket type cornucopia will work. ;) Any harvest type items will work as well. I found some berries, leaves, gourds, pinecones, foxtails, feathers and hydrangea. I then snugly inserted a piece of foam into the

cornucopia.
I started with my hydrangea and started inserting them into the foam with the bottom ones further out than the top. This gives you a cascading look.
Next I stuck picks into my foam gourds so they would have an anchor. I arranged a few different types and colors evenly around the flowers.
Add in your berries and leaves arranging them evenly throughout but not giving a too uniform look. You want

balance

, but not a polka dot look.
I stuck my hops vine on underside of all my goods and swooped it to the side along with my fox tails and feathers. Giving it the over flowing look as if it is spilling out this way with over

abundance

.
There is no right or wrong here, just play around with it until you get the look and shape that

feels right to you

. This cornucopia is a large one, but you could recreate this in any size to make your perfect

Thanksgiving

centerpiece.
Classic

Thanksgiving

and a good reminder of the
abundance

we have in our lives.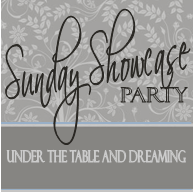 It's So Very Cheri Party Time